Mercury-Free Dentist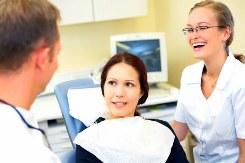 Ask About Our $1.00 Cosmetic Smile Consultations!
Mercury is a known environmental and biologic toxin. For many years, though, it has been used as a component in dental fillings. As a result, for our health and the health of our clients, it is our policy not to offer mercury-containing fillings.

To further the well-being of our patients, we also safely remove and replace mercury amalgam (silver) fillings and minimize your exposure to mercury vapor. We then replace mercury fillings with those made of non-mercury, health-friendly materials.

When removing amalgam fillings, the vapor from the fillings releases into the air. To reduce exposure to our patients, dentists and assistants, we use negative ion generators during the removal process to capture the mercury in a filter.

To find out more about our mercury-free dental practice and complete dental care, call us today to make an appointment!
Why Should You Choose Michael G Thomas DDS?
$1 Cosmetic smile consultations
Emergency appointments
Digital x-rays
We've been helping patients achieve their desired smile at our Arlington location for 25 years
To schedule an appointment, call 817-275-8800 or Contact Us Online.